It suddenly seems like I'm stumbling across stitches that I've never heard of before! I was looking at some videos on Youtube when I saw a video called the Potawatomi Stitch/ Weave out of the corner of my eye. Pota...what? Of course I immediately abandoned the video I was watching and went to this other one.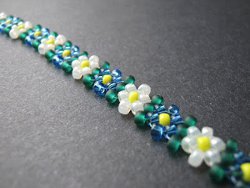 Potawatomi Daisy Chain

Turns out, the Potawatomi stitch is Native American and you can use it to create Daisy Chains. It is slightly more complex than the traditional Daisy Chain Stitch and produces a sturdier end result.

As usual, I have found a link to a website that demonstrates how to do this stitch: http://www.kolumbus.fi/vera-aleksa.sula/english/projects/potawatomi_weave.htm

The video link that I had found on Youtube, for those of you who prefer videos is: http://www.youtube.com/watch?v=ogFSvMeBV4I

This stitch would be great for making jewellery for children but if you used just one or two colours of seedbeads, I think it would result in a more adult piece.

However you choose to use this stitch, enjoy and let me know what you think! Feel free to share your final creations so I can post them (beadznbobz@gmail.com).